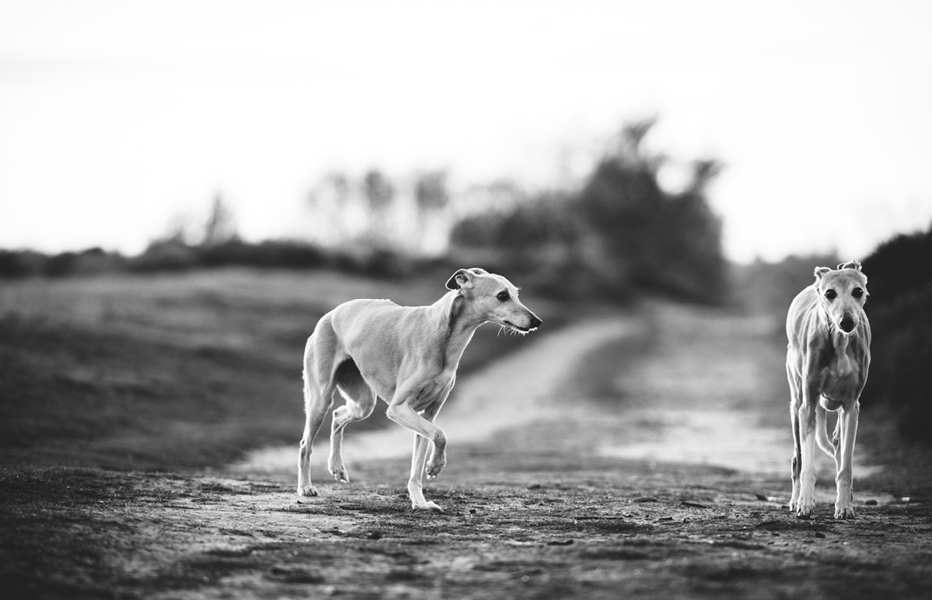 My professional background is rooted in the music industry and in design & architecture. After 12 years working in various creative music roles, I decided to foster my love of the arts by retraining as an architect. I embarked on a foundation course, then degree in architecture at the ripe old age of 32 and trained for approximately 7 years before deciding to change direction.
In 2010 I began to volunteer for The Cinnamon Trust, a charity dedicated to helping the elderly, terminally ill and their pets. My first assignment was to help a local woman walk her 2 rescue dogs. I arrived to meet Emma, a fabulous woman and her two gorgeous hounds, Frieda and Biscuit - both whippets! My great love affair with whippets was well underway. I soon discovered all of the wonderful attributes of whippets: intelligence, liveliness, affection, sweetness, docility and devotion, to name but a few. I walked Frieda and Biscuit as often as I could for about six months before Emma became seriously ill and was hospitalised. Unfortunately, Emma passed away not long afterwards and with the agreement of her family, the girls came to live with me. My sofa has never been the same since! However, the loss of comfy seating was a small price to pay for the whippet loveliness that is now my home.
I've since adopted a nutty, wonderful whippet x boy, named Luigi and moved from London to Cornwall (via Suffolk). Having much more space and time, I decided to foster whippets. I found Scruples Whippet Rescue, a charity set up to rescue, rehabilitate and re-home whippets. I registered as a fosterer, had my home check and began as a volunteer. Needless to say whippets are somewhat moreish (as many of you whippet lovers will attest), so have ended up adopting Stanley, a rather dashing and very silly blue whippet. He was meant to be a foster dog, but the love was immediate and a bromance blossomed quickly between Luigi and Stanley...
After seeing the work Scruples and their volunteers do and learning about the costs associated with running a small, independent rescue – iheartwhippets began as a way of generating funds to donate to Scruples. I offered to run a stall at Suffolk Dog Day on behalf of Scruples, to raise awareness and money for the charity. I decided to sell and auction off unique, handmade whippet items, so set about sourcing products. I eventually set up an on-line shop and a Facebook page and began raising money…
iheartwhippets has changed somewhat since inception – I've continued with my hound collection and adopted two elderly and completely crazy Italian Greyhounds, Pippa and Dusty. I no longer run the online shop, but instead fundraise mainly via Facebook by holding two auctions per year, several raffles and live events with all money being donated to Scruples. Summer 2013 saw the very popular 'Whippet Walk and Tea Party', held at The National Trust Dunwich in Suffolk.
I've since started Senior Sighthound Project as a bit of a tribute to Frieda and Biscuit, and to help raise awareness of elderly hounds in rescue. Sadly, the girls passed away in 2014 – a few days apart from each other, aged 14 and 15. I was (am) heartbroken, but a few weeks later another pair of elderly whippets needed a home. Coco and Bella came to live with me shortly after.